Marcella Hazan's Risotto Milanese Recipe
Marcella Hazan's Risotto Milanese Recipe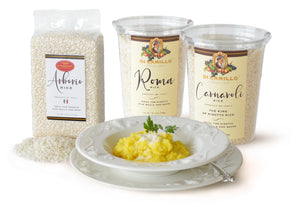 If you wish to prepare risotto perfectly and also experience the infinite variety of combinations possible, we highly recommend purchasing Marcella Hazan's Cookbook: The Essentials of Classic Italian Cooking. There is no one who speaks with greater authority regarding Northern Italian cuisine, and her variations of risotto dishes are extensive.
Marcella Hazan's Risotto Milanese
 Ingredients for 6 
5 cups of meat broth (if using packaged broth, we recommend chicken broth as the store-bought beef broth discolors the rice).
2 tablespoons of bone marrow (our preference) or pancetta or prosciutto
2 tablespoons of finely chopped onion
3 tablespoons of butter
2 tablespoons of vegetable oil
2 cups of Italian rice either: Arborio, Carnaroli or Roma rice
1/2 teaspoon of chopped whole saffron, dissolved in 1 1/2 cups of hot broth
1/3 cup freshly grated parmigiano-reggiano cheese, plus additional cheese at table
Salt, if necessary
Freshly ground pepper
Bring the broth to a slow, steady simmer on a burner near where you will be cooking.
In a broad, sturdy, heavy-bottomed pot over medium-high heat cook and stir the marrow and onion in 1 tablespoon of butter and all the oil until the onion becomes translucent, then add the rice until well coated. Toast the rice for a few minutes and then add ½ cup of broth, stirring constantly.
Continue to add a ½ a cup of broth as the rice dries out, stirring almost constantly so the rice does not stick to the bottom making sure to wipe the sides and bottom.
Finish cooking the rice stirring constantly, until tender but firm to the bite. After 15 minutes, add half of the dissolved saffron. When the rice has dried out, add the remainder of the saffron. 
Off heat add a few grindings of pepper, the remaining butter, all the fresh grated Parmesan cheese, and stir thoroughly until the cheese melts and clings to the rice. Taste and correct for salt.