David J. Di Camillo
David J. Di Camillo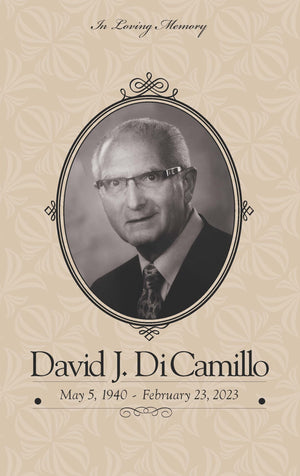 On February 24, 2023, the Di Camillo Family Bakery said goodbye to our past president David J. Di Camillo.
David J
DiCamillo was the oldest of four sons born to Frank and Anita (Vespa) DiCamillo.  He was educated at St. Joseph's Elementary School, Bishop Duffy High School, and received his BA Degree from Niagara University in 1964.  On June 20, 1964, he married Monica Kadykowski and together they lovingly cared for each other and their extended family until his death.
After a successful career at Mobil Oil Company, David joined with his father, uncles, and brother in DiCamillo Bakery.  He was an astute businessman and deeply committed to the Bakery's legacy and its future in Niagara Falls.  Early on he saw great real estate opportunities in the community, and with his brother Thomas, secured a central commissary bakery to more efficiently supply their retail locations; they also acquired a pivotal retail location on Niagara Falls Boulevard.  In addition, he led the company into the Gourmet Food Market and into new retail locations.
Through all of the challenges of running a small business, he steadfastly believed in the future potential of Western New York and Niagara Falls in particular. He was a committed community leader and was active in many organizations including: the Niagara Falls Main Street Business Association; Mount St. Mary's Hospital Foundation; Niagara Community College; and the Niagara Falls Chamber of Commerce; serving on the boards of most.
While he was resigned to the fact that he had Parkinson's Disease, Dave never stopped fighting its limitations, and he never gave in or gave up. He worked six days a week until he retired in 2021. Dave had great personal integrity and considerable physical and moral strength.
During his life, David was a dutiful son, a loving husband, a supportive father, an inspiring brother, and a fair, open minded partner. He had a wonderful sense of humor and was respectful and kind to all. He let his Catholic faith guide him in every aspect of his life.