I love Italian Rice
I love Italian Rice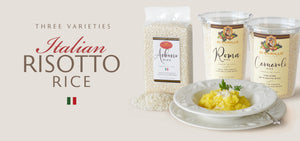 There are many very good reasons why rice is the most widely used staple food for over half of the world's population. It's delicious, nutritious, and adaptable to a truly limitless variety of preparations. There are more nutritious grains, and older domesticated ones as well, certainly ones easier to grow (millet a prime example) but none is as simply satisfying as rice. I believe that Italy, with the Risotto varieties they developed, brought rice to its pinnacle first as a domesticated grain then perfectly realized in classic risotto preparation: in cooking it creates its own sauce! 
I eat Italian rice nearly every night that I cook for myself, which is 6 nights out of 7. I sadly don't make risotto on these evenings. I have a Chinese rice steamer, and on an "A" dining evening at home it gets turned on and I have fresh cooked rice.  On a "B" dining evening, I get cooked rice from the frigde from the night before. I put it in a bowl that has been smeared with butter, a healthy hand full of fresh chopped spinach on top, then for the finale, I top it with a slice of some melting American cheese. It is then covered and zapped in the microwave. I make no apologies. It's delicious, nutritious, and fast! I'm sure it could be better with some of the thoughtful preparation that is used in risotto, or at least done in a pan on the stove sautéed, but then there would be another pot to clean!  
Another big favorite rice course of mine is topping the buttered rice with some ground meat Bolognese sauce that I always have in containers, adding a couple handfuls of frozen green peas for good measure. This I put in a covered casserole in the oven or sauté on the stove as I never microwave anything with meat in it. 
When I have company, I do show off and make risotto the right way. 
All I can say is Italian rice works remarkably well in all these situations. Once you get hooked on the meaty characteristics of Italian risotto rice, you'll never go back to any other rice variety. I've included Marcella Hazan's recipe for Classic Rice Milanese. She and my mother are the ultimate authorities for me in food preparation. Although sadly, my mother took the low ground in her approach to rice (which was not typical of her), but she had her hands full with her teaching career, my brothers, and my dad, so I guess some corners had to be cut. Also, I don't remember arborio rice on the shelves of my uncle's grocery store either. The long and the short, I grew up on quick cooking rice, but I still loved it. For me hot steamed rice and butter is the ultimate comfort food and it's the best with risotto rice varieties.